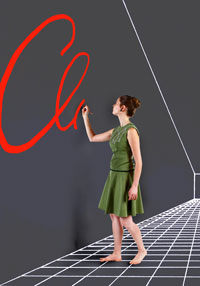 CLAUDIA
UNTERLUGGAUER
Born in 1978 in Lienz (Eastern Tirol/Austria)
Grown up in St. Lorenzen/Lesachtal (Carinthia/Austria)
Begin of artistic discussion at Adriena Šimotová/Tschechien.
Studied art and painting (class of Expanded Pictorial Space) under Franz Graf and Daniel Richter at the Academy of Fine Arts Vienna.
Master thesis in 2008 with a discussion about Trompe-l'oeil, a work with illusion jewelry (textile colour on dress) in an illusion architecture, namely in a virtual room.
Working between painting as manual medium and its extension by new digital possibilities.
EXHIBITIONS

:

17.06.2017 – play of figures in the light of stars
Moarhofstadl, Kirchenweg 184, 8923 Palfau

18.06.2016: Snow-White and Rose-Red – the Lesach Valley honors its women
academy of folk music Liesing (organisation/curator/artist: Claudia Unterluggauer)
www.lesachtalerinnen.at

03.05.2014 to 29.06.2014 – "Gut Gasteil" Gallery
Johann Berger "Ligaturen"
Claudia Unterluggauer "Painting + Drawing"
Andrea Trabitsch "Batik on Paper"

28.06.2013 – principle of hope
Zens / Unterluggauer / Mang
in the STABULUM gallery; St.Lorenzen/Lesachtal

30.11.2012 to 31.03.2013 – "2013"
Claudia Mang/Claudia Unterluggauer presenting their calendar-project
Studio Drehpunkt, Spinnerei Süd, 6900 Bregenz

16.06.2012 to 10.08.2012 – ancestors of art vol.II
to celebrate a jubilee of the band "St.Lorenzen"
an exhibition according to generations and legacy
in the educational centre of "St.Lorenzen"

08.10.2011 to 30.10.2011 – ancestors of art
Kunst.Vorarlberg Villa Claudia – platform for current art
group exhibition: AHN_EN>
I am the product of my ancestors
www.kunstvorarlberg.at

20.01.2011 to 30.05.2011 – PLUR[E]ALITÄTEN
"drops"
exhibition contribution concerning pluralism
www.dieplayaden.at

30.06.2010 to 11.07.2010 – five are painting
Open Studio Otto Wagner Gallery

10.06.2010 to 06.09.2010 – WOMAN 010
Group Exhibition Wolfgang Exner Gallery, 1010 Vienna

JAM NU(i)TS – presented by diePlayaden
28.05.2010 , Gr. Mohrengasse 38
www.dieplayaden.at

16.03.2010 to 08.06.2010
Imaginary Franz Graf Class
kiosk in the Schleifmühlgasse/ corner Margarethenstrasse

13.12.2009 to 04.04.2010 – Frauenmuseum Bonn
Astronomers – women, aiming for the stars
scenarios of science, history, fantasy and modern art
www.dieplayaden.at

27.01.2008 to 01.02.2008
Diploma Exhibition/ Academy of Fine Arts Vienna
with the art work "Scheinschmuck" (textilcolour on dress) – a discussion about Trompe-l'œil

13.05.2006 to 20.05.2006
la petite mort / festival culture Slavonice Tschechien

12.06.2005 to 17.11.2005
Flowers in the garden / Gallery Karenina, Vienna

06.03.2004 to 02.04.2004
Art – Culture – Culinary art of dining/ Landhof Kellerwand, Sissi Sonnleitner, Carinthia

08.05.2003 to 13.06.2003
Young line / Gallery IG Fine Arts, Vienna

15.10.2003 to 20.11.2003
Feast / Gallery AREA 53, Vienna

24.11.2001 to 16.12.2001
Exhibition of the year/ Academie of Fine Arts, Vienna

23.08.1999 to 16.09.1999
Summeracademie Topolcianky KulturAXE, Palais Clam Callas, Vienna
PROJECTS

:

2017 – Where am I? Kids are describing their home country.
The projekt "Where am I?" will be a very special community präsentation.
In the style of the TV series "Dingsda" the Lesachtal gets presented. Kids will describe their landscape, tradition and culture.
The native-born artist Claudia Unterluggauer is the link between artkicks (filmcompany) und the community of Lesachtal.

1., 5. 6. september 2011 – TAMAMU Café ORIENTAL
Assistant in the longtime company around tales, dance, music and live-drawings from Roman Scheidl und Katharina Puschnig.
Expedithall of the ancient factory of "Ankerbrot", Vienna
www.tamamu.com

Summerproject 2010
"wolk of old corn magazines" association of culture Untertilliach / Osttirol
issue death

13.05.2010 – Sweet Lesachtaler Hiking-Bread
Zotter-Chocolate © text and illustration Claudia Unterluggauer

31.07.2008 to 03.08.2008
symposium mills / Maria Luggau, Carinthia

25.01.2006 to 26.01.2006 – competition
ALWA awards / Auditorium of the Academie of Fine Arts, Vienna

19.05.2006 to 03.07.2006
solysombra – Action to Form / Carinthia
fabrication of the banners from Roman Scheidl and his TAMAMU-Café